Advisors should create a 'Test' student account to access, explore, and experience BridgeU as a student.
Step 1: Click on the Students tab from your menu
Step 2: Click on +Add Student in the top right corner.
Step 3: Enter any first and last name for your 'Test' student. To easily differentiate this 'Test' account from your real students, you may want to list the first name as 'Test' and the last name as your first name (e.g., 'Test Sara').
Step 4: Since your school email address is in use for your advisor account, please use a valid alternative email address for your 'Test' student account. This is the email that will receive the invitation to register with BridgeU as a student.
Step 5: Enter a graduation year that is far in the past (e.g., 1990) to make sure the student isn't accidentally included with current student reports. Finally, assign the 'Test' student to yourself as the advisor.
Please note that the content feed on Student's dashboard is year-targeted. To access the content feed, you can either
Impersonate a real student's dashboard OR
Change the graduating year of your 'Test' student to a recent year > refresh the page (after such a change, the system sometimes needs some moment to pull the relevant content to the 'Test' student's dashboard)
Step 6: And finally click to Add student.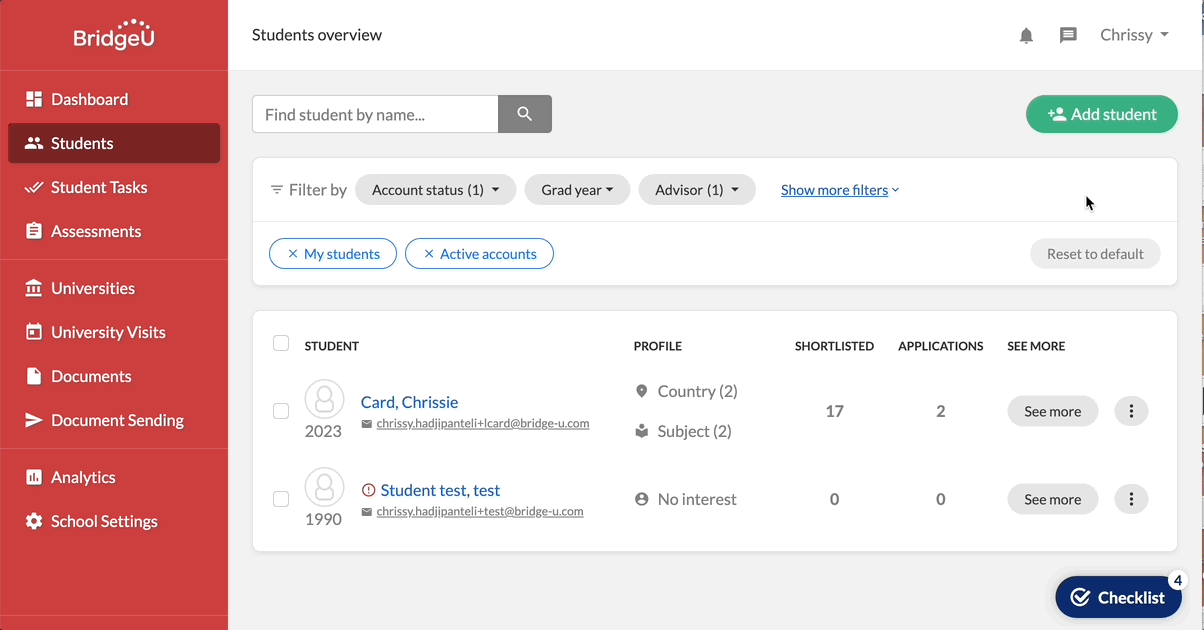 If you have any questions, need further assistance or have some general feedback for us - we'd love to hear from you! Contact our Support team via Live Chat and by emailing hi@bridge-u.com.
You can also ask our BridgeU Community, a space exclusively for our BridgeU counsellors to ask questions, share insights, provide feedback and get help not just from BridgeU, but directly from other BridgeU counsellors.