Prepping for Document Sending - Students
I already paired my CommonApp & BridgeU accounts but then I created a new CommonApp account
Speak with your advisor to make sure you are both working on the same account. If you have already submitted something on the new CommonApp account, please let us know and we will create a new BU account for you which will match your new CommonApp account. Please do try and stick to the one CommonApp account!
I entered my school in CommonApp but I am still able to invite my counselor & teacher recommenders
This could be one of two reasons. Either you have not paired the CommonApp account with the BridgeU account successfully or your school isn't paired correctly with the BridgeU integration. If it's the former, please make sure you follow this article to pair their accounts. Please note that you should not enter school details on CommonApp manually as this will be automatically added for you during the pairing process. The latter can be resolved by our support team so please let us know on Live Chat or by emailing to hi@bridge-u.com.
I already invited my counselor or teacher recommenders on CommonApp before pairing my accounts
Unfortunately, this will prevent Counselors and Teachers from uploading recommendations through BridgeU. To resolve this, you can manually remove recommendation requests put through your CommonApp accounts. To do so, go to the trash can icon on your Recommender & FERPA page on the Common App and remove the specific teacher. Please also refer to the third item of this article. If the removal is no longer available for you to self-serve, please email hi@bridge-u.com and provide your CAID. We'll contact CommonApp for you to resolve this.
Prepping for Document Sending - Advisors
How do I know which students have or haven't matched their CommonApp accounts?
There are 2 methods to view student's pairing status:
1. From Advisor's Document Sending page
2. From Student's Applications page (you can view student's dashboard to go to their Applications page)
Method 1 - Advisor's Document Sending page
On Document Sending index page, you'll see a list of students. Locate the specific student and click the name to go into the individual student's Document Sending show page. If the student is paired with CommonApp, you should be able to see their CAID along with FERPA status and assigned counselor next to the CommonApp section on the individual student's page.

If you are seeing the following screen, there are 2 possibilities below. You can always check on student's Applications page by viewing their dashboard.
1. The student hasn't paired with CommonApp.
2. The student has paired with CommonApp but either hasn't synced their applications back to BridgeU or they haven't added any applications on CommonApp yet.

Method 2: Student's Applications page
On your advisor dashboard, go to Students tab and locate the student. Click the student name to bring up an overlay window and then click view student's dashboard on the top right corner of the overlay. Navigate to Applications page. If the student is paired, you will see Sync from Common App clickable text on the top right corner. If the student has added applications on CommonApp account but not yet synced back to BridgeU, you can go ahead to click Sync from Common App to pull the applications data into BridgeU.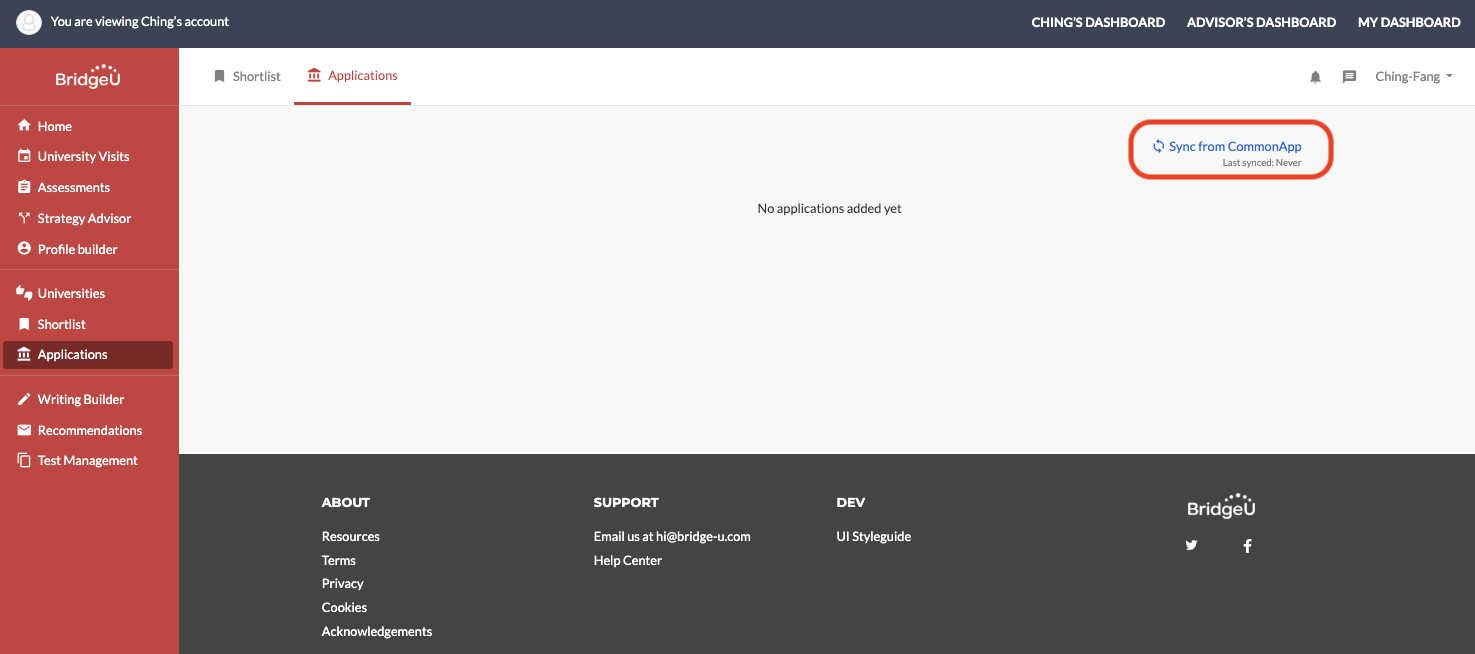 Sending Documents using CommonApp
I keep getting errors when filling out a CommonApp form. What's going on?
If your student's form in the School Report has a red-lined bubble, it means that the form is incomplete. It will be filled with light red when it is complete and ready to be sent. Example:

To find out which questions are incomplete, click 'Save' at the bottom of the form and wait for the error message to appear just below the 'Save' button. Example:
There are two places where you may need to complete these questions. Firstly, there might be an incomplete question in the student's form. Secondly, you might need to return to the whole school report in School Settings. Once you've completed all the questions, click Save on the individual student form and you will see a green tick.
If the bubble is still showing red, take a look at our article on CommonApp Form Errors. If you cannot find your issue or the solution is not working, please reach out to us at hi@bridge-u.com and provide screenshots and details including, which student's document you are working on and which form.
How do I send documents to a university that says 'document sending not supported'?
Check the university website to understand how the university accepts documents e.g. direct to them. Most likely we do not support it however, if you have information that they do accept documents through CommonApp/Parchment, please send your information to us and we will look into this.
How do I send transcripts for students that transferred to my school?
Schools are able to indicate up to 4 transcript documents on the School Report. You can upload up to 4 documents as 'initial transcripts'. This could include transcripts from the student's previous school(s). Alternatively, you could combine documents to send as a single PDF but please note that Common App has a file size limit of 2MB per document.
Remember, the number indicated on the School Report must match the number of initial transcript documents uploaded, so if you say '2' and then only upload 1 initial transcript you will receive an error message.

Tracking Documents
Why are documents showing as sent on BridgeU but not showing as submitted on student's CommonApp?
When you hit send in BridgeU, this means the document is sent to CommonApp as a standby mode. However, documents only get sent to a university once the student submits their application on CommonApp.
I can see that a teacher recommendation for a specific student shows as 'sent' in BridgeU to university A, however the student's CommonApp shows the same teacher recommendation as 'not started'.
The teacher recommendation should have been delivered to CommonApp. Most likely this is due to the fact the student still has to submit their application on CommonApp.
Unsubmit forms/documents (Common App)
Why the document bubble is yellow and stating 'unsubmitting'?
The unsubmitting task usually takes a few seconds to complete the unsubmission. Once it's completed, the page will refresh itself. If it takes too long, don't worry, you only need to refresh the page and you'll see the unsubmission puts the sending status of the form to "complete" status (red bubble).
The unsbmission is successful on BridgeU but it's still showing the form has been submitted to universities on Common App.
This means that one of the universities has already downloaded the form. BridgeU automatically synchronised the data from Common App every 24 hours. The university has downloaded the documents before the next synchronisation. You can click syn now on the student's document sending page to manually sync the latest data. After this, you'll see the sending status of the form bounce back to 'sent' status (green bubble). In this case, if you'd like to update information or transcripts/school profiles, you can use the School Optional Report to update.