You can import students and staff via ManageBac. The staff members who you import will automatically be given Advisor permissions. If you only want to import Report Writers or Parents in bulk, you will need to use the Upload Template.
Step 1: Navigate to School Settings in the left-side menu, then click on ManageBac and select Import Advisors or Import Students.

Step 2 (Advisors): Choose to either Select All or check the tickboxes next to the advisors you want to import, then click Next. Any advisors who already have BridgeU accounts will be marked as already imported.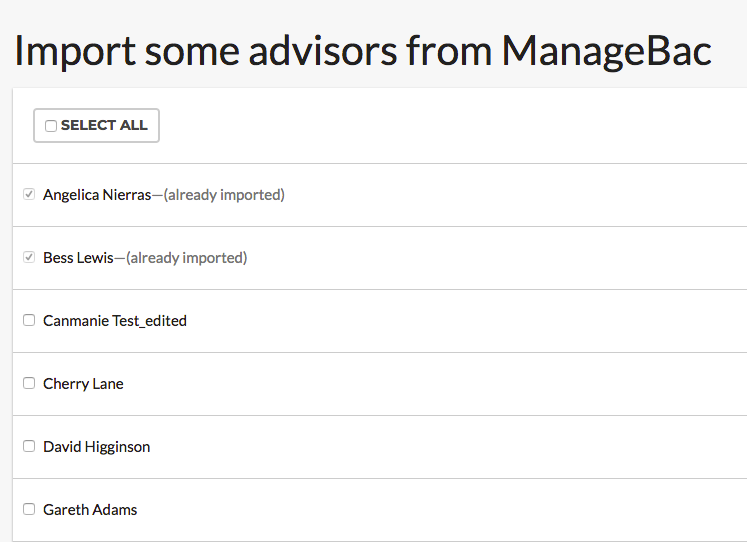 Step 3 (Students): Select which cohort of students you would like to import. ManageBac will list all year groups you can choose from.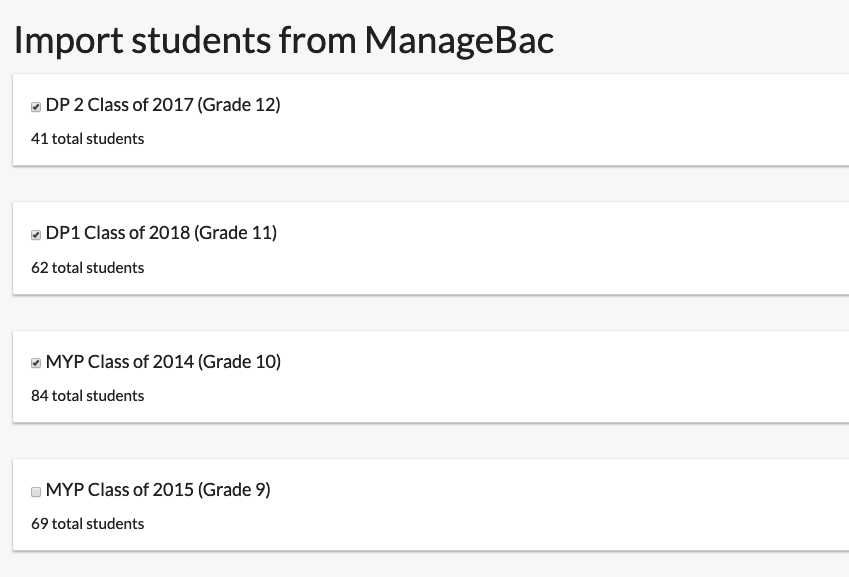 Step 4: Scroll down and click Next Step when you have selected the relevant cohorts.
Step 5: Press the Show Students button and either select all students from that year group by clicking on the Select button to the right, or only check the tickboxes next to the specific students you want to import. When you're finished selecting which year groups and students to import, click Next Step.


Step 6: If you would like to assign students' advisors, you have two options.
You can assign advisors based on how they are assigned within ManageBac, choosing between their CAS advisor, EE advisor, Homeroom advisor or TOK advisor, then click Assign.

Alternatively, you can assign advisors to each student individually, selecting an advisor who already exists within BridgeU or ManageBac. You can do this by clicking on the Select an Advisor box inline with each student's name.


Once you have finished assigning advisors click Next Step.
Step 7: The final step shows you a preview of the students you will be importing. To confirm you would like to import these students, click on Create Accounts & Send Email Invites.


If you have any questions, need further assistance or have some general feedback for us - we'd love to hear from you! Contact our Support team via Live Chat and by emailing hi@bridge-u.com.
You can also ask our BridgeU Community (hyperlinked), a space exclusively for our BridgeU counsellors to ask questions, share insights, provide feedback and get help not just from BridgeU, but directly from other BridgeU counsellors.