The upload template can also be used to bulk import students, staff and/or parents.
Step 1: Click this link to access the BridgeU User Import Template spreadsheet. Click file and make your own copy.
*If you cannot access google sheets please use the excel template at the bottom*
Step 2: Navigate through the Advisors, Students and Parents sheets; look for the tabs within the spreadsheet.

Step 3: Follow the instructions in the spreadsheet, completing all of the required fields. There are validations which will tell you the data will not be processed correctly. Please correct these errors.
Step 4: If it is your first time importing via spreadsheet, you can upload the file in BridgeU. Go to School Settings in the left-side menu, click Import Users Via Spreadsheet and then click the button Create by Spreadsheet.
Step 5: If you have imported via spreadsheet before, this option will not be available to you. Instead, attach your completed upload template and send it by email to hi@bridge-u.com, remembering to include: (1) your school name and (2) when you would like the welcome emails to be sent out.
* Please note that BridgeU does uploads Monday, Wednesday , and Friday's *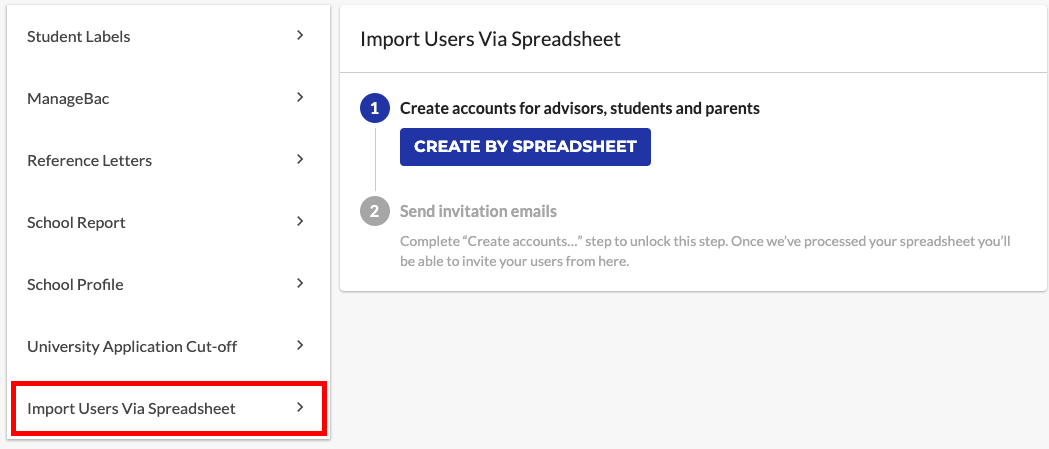 *BridgeU Upload Template - Excel Version *