Create and send an email message directly from BridgeU to a student or email several students at once using your preferred email provider.
There are two ways that students can be selected and added to a mailing list:
Send an email to a student
You can use this option if you plan to send an email to one student only. Click on the Students section for the student list to appear. Once you have identified the student, click the three vertical dots and select Send via Gmail or Email via default email.

Send an email to more than one student
On the left-hand side, click on Students and in the Current Students tab, select by ticking the students you would like to send an email to.
When the students have been selected, a banner of actions will appear at the top of the student list: Set Task, Edit students, Email students, More Bulk Actions. Select Email Students.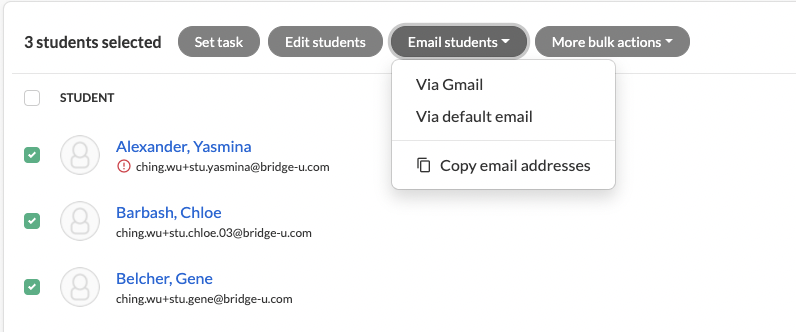 What are the mail options available?
When prompted to use your preferred email provider, you will receive the replies to the email account's inbox and not on the BridgeU messages function.
There will be two options you can select from, depending on the email provider. If you select:
via Gmail: the email addresses will automatically be inserted into Gmail as Bcc;
via default email: select this option if you are using a different email provider.
You can start composing your email.
If there is an error message when using the above two options, this means you reached the character limit. In this instance, using the Copy email addresses functionality for bulk email is recommended. You can copy and paste and adapt your communication with your students accordingly.

The Copy email addresses will use commas as an email separator. If your school is using Outlook, by default, the email separator in outlook is a semicolon. You can go to File > Options > Mail, then tick the checkbox Commas can be used to separate multiple message recipients, and select OK.